"You Are Not for Everyone" - Prints and more available on Society6!
VaughnFender.com / @VaughnFender
words from James Victore
The Beastie Boys founder reflects on the decade's notable developments, and explains why you just can't wear spandex at a gas station anymore.
"We dichotomise between creative types and everyone else (We have a monopoly on creativity); between professionally produced ads and user generated content (Nobody would do this for free); between bold visionary ideas and ideas that arise out of research and testing (A consumer can have nothing constructive to add); between ads that look like ads and content marketing (Nobody wants to read, everyone wants to be entertained); between stories and data (Everybody loves to listen to stories); between the eternal kingdom of advertising and the end of all advertising as we know it (Nothing will change! Everything will change!) Our instinctive response to all problems - including our own - is to seek 'essences', to leave no room for intermediates. Our reality remains firmly bounded by our ideas of it, rather than the other way around."
-
Evolution and the hidden cognitive bias that's sabotaging advertising's future - MisEntropy
Sounds like the same problem plaguing design.
"But, but…here is the thing. In terms of the internet, nothing has happened yet. The internet is still at the beginning of its beginning. If we could climb into a time machine and journey 30 years into the future, and from that vantage look back to today, we'd realize that most of the greatest products running the lives of citizens in 2044 were not invented until after 2014. People in the future will look at their holodecks, and wearable virtual reality contact lenses, and downloadable avatars, and AI interfaces, and say, oh, you didn't really have the internet (or whatever they'll call it) back then."
"If your fridge was made before standards changed in 2001, as mine was, it's using somewhere in the vicinity of 1,000 to 1,750 kilowatt-hours per year (kWh/year). Your average laptop uses about 72 kWh/year, and newer, better laptops like the MacBook Air use around 25 kWh/year. That means your non-new fridge uses up to 70 times as much energy your laptop. According to the EPA, using that much electricity is the equivalent of burning up to 50 gallons of gasoline per year."
-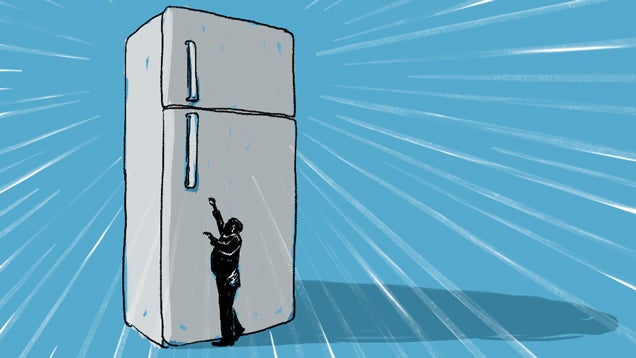 Your Giant American Refrigerator Is Making You Fat And Poor
"What people don't understand and I think some designers don't understand to a certain degree; designers only make a vessel to hold things that have to kind of be filled in over time." — Michael Bierut
Michael Bierut talks about his mentor Massimo Vignelli, how the internet has changed the way we do design work in the 20th century and what make a logo endure.
50 years ago, record players didn't look like machines. They looked like old-fashioned, brown wood furniture. But in 1956, Dieter Rams's SK4 record player, nicknamed Snow White's Coffin, changed all that.
Notes from "The Beginning of Infinity" by David Deutsch
July 27, 2014 The Spark
This increasingly intimate connection between explaining the world and controlling it is no accident, but is part of the deep structure of the world. Consider the set of all conceivable transformations of physical objects. Some of those (like faster-than-light communication) never happen because they are forbidden by laws of nature; some (like the formation of stars out of primordial hydrogen) happen spontaneously; and some (such as converting air and water into trees, or converting raw materials into a radio telescope) are possible, but happen only when the requisite knowledge is present – for instance, embodied in genes or brains. But those are the only possibilities. That is to say, every putative physical transformation, to be performed in a given time with given resources or under any other conditions, is either
– impossible because it is forbidden by the laws of nature; or
– achievable, given the right knowledge.
With enough time and money anything is possible. If we can observe it then we can understand it and we can control it.
———

All Excerpts From
Deutsch, David. "The Beginning of Infinity." Penguin, 2011. iBooks. 
This material may be protected by copyright.
Notes from "The Beginning of Infinity" by David Deutsch
July 26, 2014 3. The Spark
So fruitful has this abandonment of anthropocentric theories been, and so important in the broader history of ideas, that anti-anthropocentrism has increasingly been elevated to the status of a universal principle, sometimes called the 'Principle of Mediocrity': there is nothing significant about humans (in the cosmic scheme of things). As the physicist Stephen Hawking put it, humans are 'just a chemical scum on the surface of a typical planet that's in orbit round a typical star on the outskirts of a typical galaxy'.
All Excerpts From
Deutsch, David. "The Beginning of Infinity." Penguin, 2011. iBooks.
This material may be protected by copyright.